I am honored and grateful to be able to reverse engineer my path with BMX and now with the Ketogenic & medical field.
It's led me to connect with some amazing people overall, but I am particularly excited to connect with the people I am helping with their goals and doctors at the forefront of sharing this information.
Dr. Ryan Lowery is someone who is making massive shifts in the way we view food, diets, health, and so much more. I got introduced to him by following some KETO people on Instagram and then was told to check out his book, The Ketogenic Bible.
After some DM's back and forth on Instagram, Dr. Lowery invited me on his podcast, What The Fat, to share my story of BMX, overcoming and living with 4 brain tumors, and how I got into a ketogenic diet.
Check out the whole video here:
Check out the 3-part podcast series here: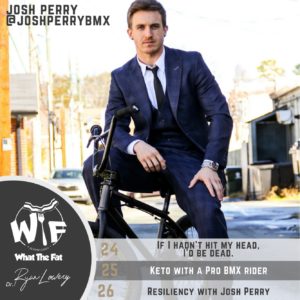 Want to learn more about making changes TODAY to improve your brain's health, remove excess body fat/weight, gain more energy, improve sleep and recovery, clear up inflammation and digestive issues, reduce disease risk factors, and put cravings at bay all while worrying less about food?
HIT ME UP
-Josh P.
josh@joshperrybmx.com