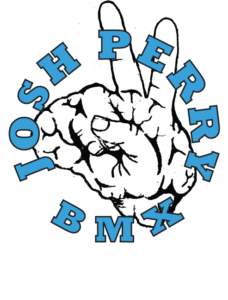 Josh Perry was born and raised on Cape Cod, MA, where he developed his passion for BMX bike riding. Josh moved to Greenville, NC when he was 17 to pursue a career as a pro-BMX athlete and to ride with the best riders in the world, including Dave Mirra. In 2009, Josh won his first pro contest as well as the best trick contest, winning him a brand new Harley Davidson motorcycle. Following the big win, Josh made his first X-Games appearance and continued competing in the Dew Action Sports Tour (2007-2013).
In March of 2010, a hard crash on his bike led Josh to the hospital in fear of a head traumatic brain injury (TBI). After almost a year of migraines, bouts of temporary blindness, and being repeatedly told that nothing was wrong, an MRI to rule out a concussion revealed a mass taking up the entirety of the left side of his brain. At the young age of 21, Josh faced mortality.
In April of 2010, Josh underwent surgery to remove a brain tumor taking up the entire left side of his brain. This was a major turning point in his life putting him on track to learning about nutrition and taking better care of his body. In November of 2012, Josh had Gamma Knife Radiation treatment to treat two new tumors. This was another eye-opener for Josh and his health, which led him to research holistic health and nutrition even deeper.
With his experiences with brain tumors and injuries, Josh became very passionate about learning about food and the correlation to our health and wellbeing, as well as sharing information with others in hopes of helping them become well. In February of 2014, Josh enrolled in the world's largest nutrition program, the Institute for Integrative Nutrition. In February of 2015, Josh completed the program to earn a certification as a Holistic Health Coach to further his efforts in sharing information with others and helping them achieve their goals with their health and wellbeing.
In April of 2015, Josh launched www.DailyBrainstorms.com to share his story, and passion with the world and in October of 2016, Josh founded the Josh Perry Foundation as his way to give back to the world.
Josh placed 10th overall in the world for the 2016 UCI x Fise World Cup Series, returning to competition just a few months after ACL reconstructive surgery.After the 2016 season, Josh returned from China and founded The Josh Perry Foundation as his way of giving back to those with brain tumors, brain injuries, and other brain disorders. March 2017 Josh was informed he had 2 new tumors on the other side of his brain. Josh is going to finish his 2017 season before getting Gamma Knife treatment on the new growths.
Josh continues to ride BMX at a professional level today, despite living with four brain tumors, and works extremely hard to stay fit, healthy, positive, and driven while sharing as much as he can with the world.
Connect with Josh here: